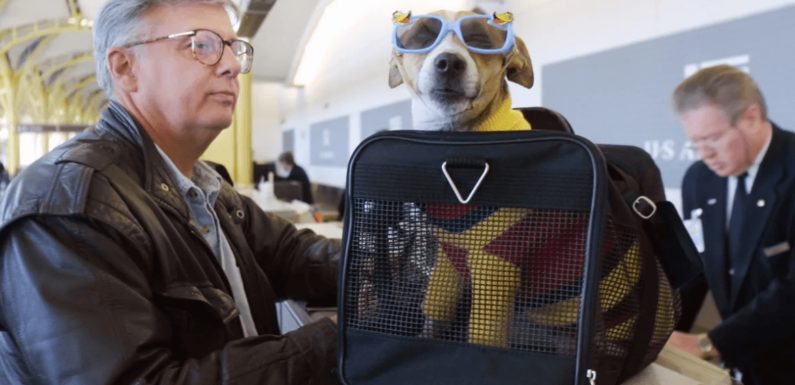 We need our service dogs to assist us and be with us in order for us to live our best lives. Sometimes, we need to go out of town and require the assistance of our pups. Sometimes we are traveling too far to get there by car and we must hop on a flight. Like many dogs and animals, service dogs may be overwhelmed, timid, or nervous about airports and flying, and you may too! You might also be wondering what kind of documentation you need in order to fly with your service dog for no additional cost.
So, let's go over some tips for a smooth flight and trip with your dog by your side.
First of all, it's important to know your rights. The Air Carrier Access Act gives you the right to have your service dog with you in the cabin of the aircraft for no extra charge. In order to prove the necessity of your service dog you will need to be able to:
Explain how the dog is trained to help you. You may have to do this to the airline employees and/or Homeland Security.
It is not required by law to have your service dog wear an identifying patch or vest, but most airlines will ask that you do have them wear some type of identifier. They also ask that your dog is on a service leash.
Most airlines will also ask that your dog wears a photo I.D. that identifies them as a service dog from a credible registry.
When you register your service dog though an accredited organization like the National Service Animal Registry (NSARCO), it is illegal for the airline to charge you extra fees when the dog accompanies you in the cabin of the airplane.
How to Prep for Fido's Flight
Call ahead to read up on the latest policies for service dogs on the particular airline you are going on. This is a very important step right now as things are constantly up in the air and changing due to COVID-19. Your initial call is a good time to check and see what kind of documentation you will need to bring with you.
In addition to reading this article, it is a good idea to brush up on the airline's policies around service animals on their website or by giving them a call. Keep in mind, most airlines required advanced notice that you are bringing a service animal and the above-mentioned requirements and documentation.

-It's a good idea to equip your service dog with a solid colored vest before the voyage, as well as their service dog patch, photo I.D., and leash. This will just help identify your dog as a service dog to avoid any kinds of problems at the airport or on the flight.
 
When you get to the airport and go to check-in, tell the representative that is helping you that your service dog is accompanying you. That way you will avoid any potential delays and they can complete the required process for flying with your dog. Once you tell the representative that you are traveling with a dog, they will ask you if it is an emotional support animal or a service dog. Then. they will ask what the dog is trained to assist you with based on your disability.
Next up is the security process. Recent changes require that after you successfully go through the security scanner, you cannot make contact with your dog other than holding its leash until the dog has been inspected and cleared by TSA. If your dog's leash or vest or collar has metal in it, don't forget to take it off before they pass through the scanner! You may be asked again by the TSA about your dog and how they are trained to help you. Remember, TSA can't request that you separate yourself from your dog. If you encounter any problems with TSA, ask for a supervisor immediately.
Once you arrive at your boarding gate with your pup in tow, inform the agent at the gate that you are being accompanied today by your service dog. This will allow them to ask any questions they may have and they may even let you and your pup board early.
Once you've made it onto the plane, it's important that your dog is on the floor between your knees and the seat in front of you. If your service dog is small and you'd like to place him on your lap for the flight, make sure you ask the flight attendant and anyone sitting near you to make sure they won't mind.
More Tips for a Great Flight
Take your dog to the vet for a pre-flight check-up. You'll want to make sure they are in good health to fly and that they are current on all necessary vaccinations. Some airlines may ask for a certificate of health from your vet or a vaccine record. So have these updated and on hand.
During these times of COVID-19, you might want to ask the airline about any potential quarantines regarding your service dog when you arrive at your destination.
Try to get Fido a little bit of exercise before takeoff. If you have them on a leash, the good news is, the walkthrough security and to the gate will likely be enough to tucker them out. You could also go on a walk or play some fetch at home before leaving for the airport.
Check out a map of the airport terminal before your trip so you can know where the animal bathroom relief areas are.
Make sure you ask about the airline's policies for service-dog related luggage including food, kennels, and an additional bag you may need to bring to carry your service dog's supplies.
Don't feed Fido right before the flight. You don't want them to have any problems with nausea, vomiting, or diarrhea. Limit water as much as you can too pre-flight to avoid any accidents.
Try to pack a favorite toy or blanket for your pup for the flight. A little bit of comfort can go a long way easing anxiety.
Do I need to Sedate my Service Dog?
It is likely that when traveling, you will need your service dog to still be able to do their job and guide and assist you. A lot of service dogs are already used to working out in public and in crowds. Flights are a little rarer, and the feelings of worry and anxiety you are experiencing are totally normal. It is not recommended that you sedate your service dog, but as always, talk to your vet before your dog's flight and address any concerns you may have with them.
We hope that after reading this article, contacting the airline, and doing ample research to prep for a flight with your service dog, you will feel less anxious about the journey. Remember, that as a service dog owner, you have rights while flying with your dog companion. Please contact us with any additional questions or concerns you may have. Bon Voyage!