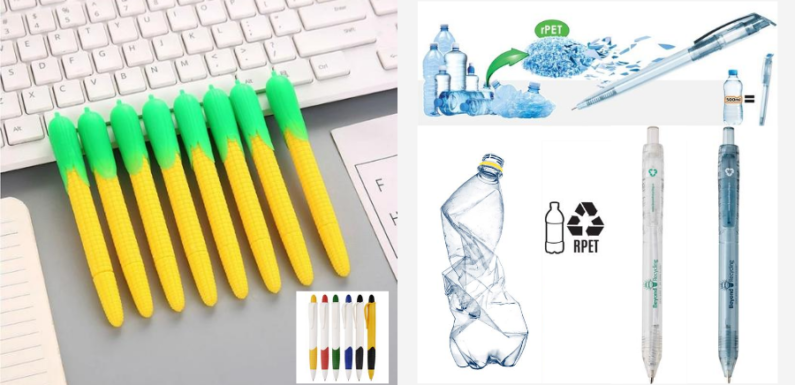 Pens made with corn starch, 100% biodegradable, and those made entirely from recycled plastic, are among the most interesting and cheapest ecological promotional items of the moment.
Writing has a very long history, it is one of the basic instruments of communication and along decades it has maintained a fascinating taste. Words flies while a written message remains: it can hurt or it can spread love, you can read it so many times and you can also imagine the state of mind of the sender in the moment of writing. Nowadays with computers and digital methods that kind of mystery enclosed to paper letters has been missed, even if the most romantic of us choose always to write a note instead of a WhatsApp message.
If you think at your desk in the office, you'll surely remind how many different types of pens you have. Yes, of course, you have a computer or a tablet, but what about all the post-it attached everywhere? And what about your agenda and your notebook? Definitely yes, the necessity to have pens will never end, both for free time and for business. 
If you borrow a pen, that object will identify you. You can choose among technological pens, the multifunctional ones, or ecological pens, with blue, back or red refill, sophisticated with a coordinated packaging, or simple, or even funny.
Since you can find in the market lot of different pen types, you can wonder yourself which is the right choice for your brand. In fact, if a pen identifies you it can also identify your Company. I mean, it is not just printing your logo in a casual object that qualify your brand, you have to pay attention to materials, functionality and other things consistent with your communication.
But which are the updates in the market of pens?
The ecological factor has always been kept in high consideration by the consumer, so that Company that is considering pens as give away, have to put this alternative on top over the others. If you want to be sure to present something ecological for sure or biodegradable or made with recycled materials, the following ideas here below can be certainly suitable for your needs. Or take a look at these promotional items to discover a wider selection.
1. The corn pen.
Except for the ink, the corn pen has been made completely of PLA (polylactic acid), a biodegradable and compostable bioplastic. This material derived from the transformation of sugar present in corns and other ecological and natural materials renewable and not derived from oil (as per the traditional plastic). The bioplastic degrades quickly in the ground when the necessary temperature and humidity conditions of the atmosphere are reached. When you see and touch this material you feel the same sensation of ordinary plastic. This is a plus because it can be shaped to achieve the shape and color you need, both for pens and other objects.
2. The recycled plastic pen.
All the elements of this pen have been made thanks to the recycling of plastic bottles, in particular, the plastic of a single regained and regenerated bottle become one pen. Usually, the objects made up of RPET, contains the relevant symbol so that you always recognize them. And when its life has finished it can be thrown away in plastic wastes and recycled again and again.
3. The coffee pen.
That's incredible that about 50 billion kilos of the coffee ground produced are wasted year by year. In the infinite ideas of recycle also these rejects can turn into a new life. Do you imagine a coffee pen? It is made of 40% reused coffee grounds and please bring the pen to your nose, you'd smell the coffee! 
4. The recycled paper pen.
The body and the cup of this pen are made up of recycled paper. The touch is soft and it looks so nice and original, don't it?
5. Paper wheat straw pen.
You don't actually know how many wheats is eaten everyday worldwide. Of course, it means that there are also wastes thrown away in the form of leaves, straw and others. Mixing the recycled paper with wheat straw you can have eco-friendly resistant pens. What else?
6. The milk carton pen.
Paper plus cellulose from Tetra Pak cartons (the ones in which you find milk and sometimes water) can be recovered and reused, in order to saving high percentages of fossil fuels, water and also 70% of CO2 emissions. Only polyethylene and aluminum are left over, which are processed into little pieces and used to create the milk carton pen, like the followings. Their aspect is quite similar to plastic! 
Another type among the best and most requested promotional pen is the multifunctional one.
If you have a pen that is touch screen, a phone holder, ruler, screen cleaner, screwdriver function…you don't need anything else at your desk. And yes, it exists, just take a look at these website HiGift to discover it among the others! (It's a multi-language website so you'll find also the Italian English version but also the French and Dutch one).
Of course, if you are thinking to pens as gifts you have to think at their personalization. You can use several techniques of printing like screen or pad printing, engraving. It depends always on the pen's material and on your logo, if it has just one color or more colors. You have to imagine how your selected pen will look after you put your creativity in it, and then go ahead with personalization without any doubt.
Any idea of other original type of pens? If you have in mind to create something new, you can create your personal pen, just contacting Gadget Lab and they'll create something that doesn't exist in the market, with your help of course.
In fact, you have always to have in mind which is the best choice for you and for the people you'll give the item to. The pen's world is just waiting for your choice!