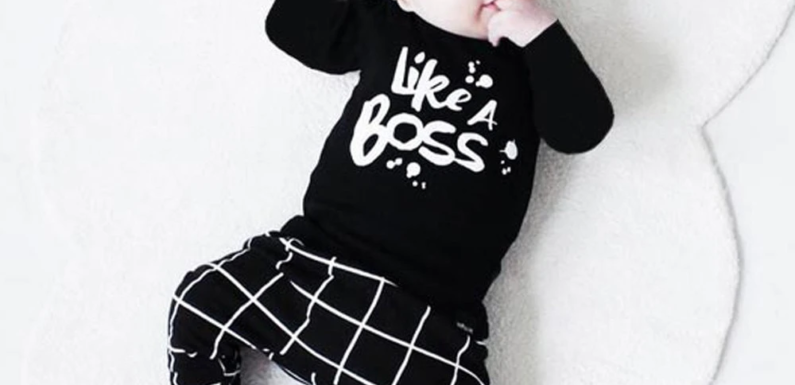 The key elements to keep in mind before buying any garment for a baby boy are comfort and safety of the child. We know you wish your child to outshine and look the cutest, but that does not mean you should compromise with his comfort or safety at all.
The market is full of variety when it comes to buying unique baby boy clothes.  With a lot of different styles, fabrics, and brands it can get a bit mind boggling for parents to pick the best out of it.
Some factors you should pay attention to while shopping for your kid are colors, size, quality, fabric, and design. You should never compromise with the quality of fabric for your baby boy.
We have listed a few important factors to consider while shopping for your little one. Hope these will help in sorting your doubts out.
Safety
This is the foremost vital tip while shopping for your baby. The safety of your baby must never be overlooked or compromised. Make sure the outfit you chose does not have any sort of 
irritating zip. Avoid clothes that have small buttons or bows, they can be a choking risk for the child. Make sure if any decorative material on the cloth is properly sewed. Long ties around the neck are unsafe too. Avoid buying clothes that have hooks or any other edgy material on the clothes.
Fire Free Sleepwear
Babies during the age of 9 – 14 months are very mobile so it is advisable that you pick flame resistant fabrics to keep the child safe from any burns. Check the labels on your baby's sleepwear before if it is flame retardant.
Fabric
Babies, especially newborns, have very tender skin. You should go for clothes that are smooth and skin friendly. You can check the softness of the fabrics by turning the cloth inside out and feel it on your hand. Babies have extremely sensitive skin which is prone to rashes and other skin problems. Avoid clothes that have harsh fabric to avoid any kind of skin irritation for your baby boy. Cotton, soy based fabrics or silk are advisable for dressing up your child.
Weather
When you shop for a baby, always make sure you buy the fabric according to the weather. For instance, a one piece garment would be best for winters, it will keep the baby's feet warm too. Do not buy jeans or elastic pants, it can make the child really uncomfortable and irritate his tender skin. For summers, always prefer shorts, half pants with soft elastic. Avoid t-shirts with long sleeves in summers. You can choose colors also, keeping the weather in mind. Like mild colored clothes should be preferred during summers, as they absorb less heat. Whereas darker shades of color can be worn during winters, as they absorb more heat.
Size
Babies grow really fast and during their growth age, you would have to shop for new clothes every now and then which can be a fuss for parents. It is advised to buy clothes that are a bit bigger in size for growing children or infants. Different brands have different sizes, so make beware of buying the correct size for your baby. A bit bigger sized clothing will also not annoy the child and keep him comfortable.
Fashion
We understand you may urge to dress up your baby in a really trendy outfit. But you should always shop for clothes that will be useful in the long term. Do not spend too much money on clothes that will only be worn on special occasions. A set of 2 or 3 such special outfits is enough. For infants, you should not buy a large number of clothes as babies grow really fast. And if you buy tons of clothing for a particular age, it will be worthless. You can dress up your baby into a really fashionable outfit but do not forget the comfort and safety measures.
Budget
Do not buy expensive clothes for babies as we mentioned babies grow up really quickly. Do not compromise your child's safety and comfort for cheaper clothes. It can cause a lot of problems in the future. You can also shop unique and cute baby boy clothes online, as you can find a variety of choices in a modest price range on the internet.